The Vinton Downtown Detroit Apartments
Upscale City Living
Welcome to the Vinton apartment homes in downtown Detroit. Standing since 1917, the historic neoclassical-styled structure has recently completed its transformation into a residential masterpiece that brings residents' wants and needs together in grand fashion. The boutique building features finely designed and carefully crafted one- and two-bedroom apartments, each with large corner windows showcasing unique city views. Above-and-beyond accommodations include complimentary attached parking and on-site fine dining.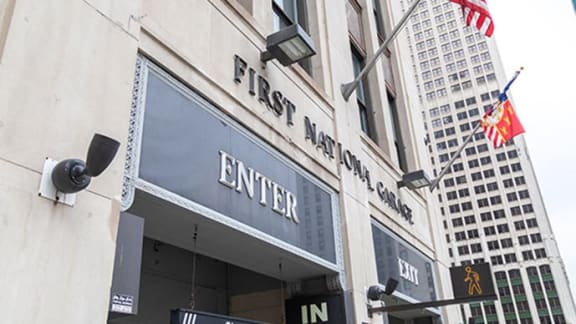 Attached parking Garage
Retrieve your vehicle with speed and ease from the Vinton's attached parking garage. In an attractive area where parking is at a premium, Vinton residents receive complimentary spots.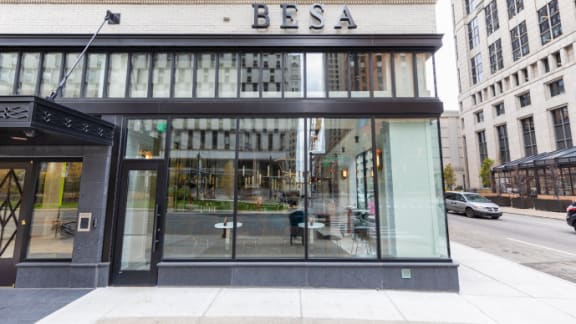 First-Floor Fine Dining
Located on the ground level of the Vinton is the award-winning Besa restaurant and bar. With an ambiance that is almost as alluring as the delicious Adriatic plates and craft cocktails, you can get a taste of downtown dining right inside your building.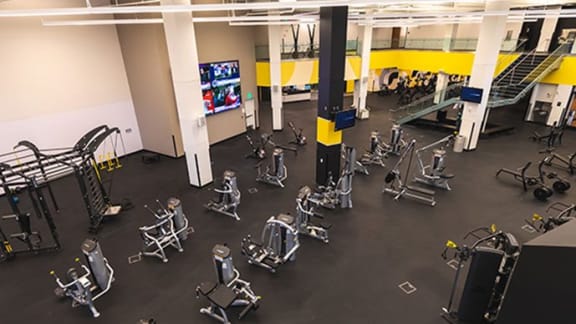 Fitness Center Access
Every Vinton resident receives a complimentary membership to the newly renovated and fully equipped COR Wellness Center inside One Campus Martius. The state-of-the-art fitness center features wet and dry saunas, a basketball /volleyball court, a yoga studio and more than a dozen complimentary classes.
Refined Design
In the Vinton's one-, two- and three-bedroom apartment homes, everything's been thought through from start to finishes. Biometric security and integrated technology bring modern conveniences to your fingertips with the touch of a button. Heated hardwood floors add to the laundry list of amenities that you didn't know you needed until you got them at your Vinton home. And marble countertops and handmade wood cabinets add sophistication and elegance in practical ways. With all the stresses of your already-busy day, sit by your picturesque windows and relax knowing that your Vinton apartment brings you unparalleled comfort.
Your Residence Is Ready
Whether you're searching for a one-, two- or three-bedroom, the Vinton offers four floor plans with spacious layouts that allow you to individually craft the look and feel of your home. The Vinton combines a list of amenities that no other downtown Detroit apartment offers, all in one place.
Where Downtown Detroit Comes Together
The Vinton apartment homes are centrally located in the city's Central Business District. Find elegant meals and craft cocktails, attend cultural shows and sporting events, browse local and national boutiques, visit amazing parks and find unique adventures-all right outside your door. Corporate and college campuses are a quick QLINE ride or People Mover commute from home, and attached, on-site parking makes it easy to retrieve your vehicle. The Vinton makes it convenient to live, work and play in desirable downtown Detroit.
Contact Us
Send us a message to ask specific questions and request more information about the Vinton's one-, two- and three-bedroom apartment homes in the Central Business District of downtown Detroit.
THE MAY ONCE SERVED AS CLEVELAND'S LANDMARK SHOPPING CENTER, LOCATED IN THE HEART OF THE CITY'S RETAIL DISTRICT IN PUBLIC SQUARE.
Standing 149 feet tall and spanning 880,000 square feet, it was the third-largest department store in the country. It carved out a lane as a destination for fashionistas who wanted to shop at the trendiest stores from the hottest designers. For decades, The May was home to some of the biggest fashion shows in the Midwest, hosted by world-renowned brands including Vogue Magazine and Oscar de la Renta.
Despite the building's continual transformation – including multiple renovations, additions and upgrades – its roots in fashion and art still run deep. Today, more than 120 years after first opening its doors, The May is home to the newest downtown Cleveland apartments.